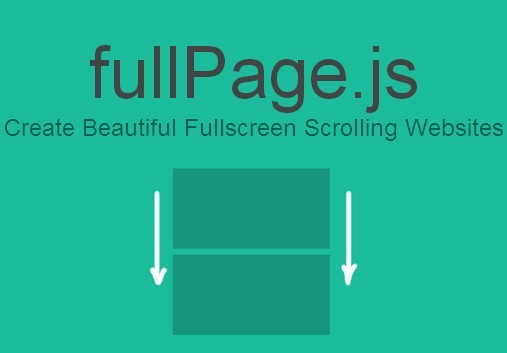 | | |
| --- | --- |
| File Size: | 8.1 MB |
| Views Total: | |
| Last Update: | |
| Publish Date: | |
| Official Website: | Go to website |
| License: | MIT |
| | |
fullPage.js is yet another jQuery plugin for one page website that allows you to create vertical or horizontal scrolling web page with smooth animations and easing options.
Features:
Not only vertical scrolling but also horizontal scrolling.
Easy to use. Configurable and customizable.
Working in modern and old browsers too!
Responsive designed to fit to different screen sizes as well as tablet and mobile devices.
Auto scrolling on page load
Supports mousewheel scrolling
You might also like:
How to use it:
1. Include jQuery and jQuery UI on your one page website

<script src="http://code.jquery.com/jquery-latest.min.js"></script>
<script src="http://ajax.googleapis.com/ajax/libs/jqueryui/1.10.3/jquery-ui.min.js"></script>
2. Include jQuery fullPage.js plugin after jQuery and jQuery UI included

<link rel="stylesheet" type="text/css" href="jquery.fullPage.css" />
<script type="text/javascript" src="jquery.fullPage.js"></script>
3. Create the html for your one page website

<div class="section active" id="section0">
<h1>Initial Section</h1>
</div>
<div class="section" id="section1">
<div class="slide active">
<div class="wrap">
<h1>Section 1</h1>
</div>
</div>
<div class="slide">
<h1>This is an awesome plugin</h1>
</div>
<div class="slide">
<h1>Which enables you to create awesome websites</h1>
</div>
<div class="slide">
<h1>In the most simple way ever</h1>
</div>
</div>
<div class="section" id="section2">
<h1>Section 2</h1>
</div>
<div class="section" id="section3">
<h1>Section 3</h1>
</div>
4. You can also create some navigation links to scroll between sections by mouse click

<ul id="menu">
<li data-menuanchor="firstPage"><a href="#firstPage">First slide</a></li>
<li data-menuanchor="secondPage"><a href="#secondPage">Second slide</a></li>
<li data-menuanchor="3rdPage"><a href="#3rdPage">Third slide</a></li>
<li data-menuanchor="4thpage"><a href="#4thpage">Fourth slide</a></li>
</ul>
5. Call the plugin with options

<script type="text/javascript">
$(document).ready(function() {
$.fn.fullpage({
slidesColor: ['#f2f2f2', '#4BBFC3', '#7BAABE', 'whitesmoke', '#ccddff'],
anchors: ['firstPage', 'secondPage', '3rdPage', '4thpage', 'lastPage']
});
});
</script>
6. All the options

//navigation
menu: false,
anchors:[],
lockAnchors: false,
navigation: false,
navigationPosition: 'right',
navigationTooltips: [],
showActiveTooltip: false,
slidesNavigation: false,
slidesNavPosition: 'bottom',
scrollBar: false,

//scrolling
css3: true,
scrollingSpeed: 700,
autoScrolling: true,
fitToSection: true,
easing: 'easeInOutCubic',
easingcss3: 'ease',
loopBottom: false,
loopTop: false,
loopHorizontal: true,
continuousVertical: false,
normalScrollElements: null,
scrollOverflow: false,
touchSensitivity: 5,
normalScrollElementTouchThreshold: 5,

//Accessibility
keyboardScrolling: true,
animateAnchor: true,
recordHistory: true,

//design
controlArrows: true,
controlArrowColor: '#fff',
verticalCentered: true,
resize: false,
sectionsColor : [],
paddingTop: 0,
paddingBottom: 0,
fixedElements: null,
responsive: 0, //backwards compabitility with responsiveWiddth
responsiveWidth: 0,
responsiveHeight: 0,

//Custom selectors
sectionSelector: SECTION_DEFAULT_SEL,
slideSelector: SLIDE_DEFAULT_SEL,


//events
afterLoad: null,
onLeave: null,
afterRender: null,
afterResize: null,
afterReBuild: null,
afterSlideLoad: null,
onSlideLeave: null
Change logs:
v2.7.9 (2016-04-15)
v2.6.6 (2015-06-08)
ixed mousewheel for old firefox versions
Fixed bug with slimScroll
Fixed bug when using scrollBar:true and opening a new tab (ctrl + t)
Added new option lockAnchors to lock anchors #1198
Added new option responsiveHeight
Added new option responsiveWidth replacing the old option responsive
Added new function setLockAnchors
Modified setKeyboardScrolling function to lock keyboard scrolling in specific directions
Added new functionality to cancel the scroll before it takes place
Callback onSlideLeave has now a new parameter nextIndex
Single slide inside section won't show navigation bullets
Added a new functionality to lazy load images, videos and audio elements.
Added a new functionality to play and stop videos/audios when they enter in the viewport
v2.6.5 (2015-05-01)
Fixed bug using scrollOverflow:true and autoScrolling:false #553
Fixed bug using zoom (ctrl + mouse)
afterLoad callback will now fire on page render as well
Fixed bug with setAllowScrolling right and left
Fixed bug which fired multiple callbacks when using continuousVertical
Added new method $.fn.fullpage.silentMove to scroll with no animation
Window resize has no animation now
Added npm installation to the documentation
Improved documentation about Creating links to sections or slides and anchors
Added some more comments in the code
v2.6.3 (2015-04-10)
Solved bug with slide anchors
2014-09-20
Double click over bullets on touch devices no longer needed
2014-07-01
Solved problem with common selectors.
---
This awesome jQuery plugin is developed by alvarotrigo. For more Advanced Usages, please check the demo page or visit the official website.