Here's our #199 hand-picked collection of 7 New Free jQuery Plugins with examples we found around the web from last week (Sep 22nd, 2017 ~ Sep 28th, 2017). These jQuery plugins haven't been featured on our website yet I think you might find useful. Have fun with it and remember to spread the word!
jQuery memerator
A meme generator for the web.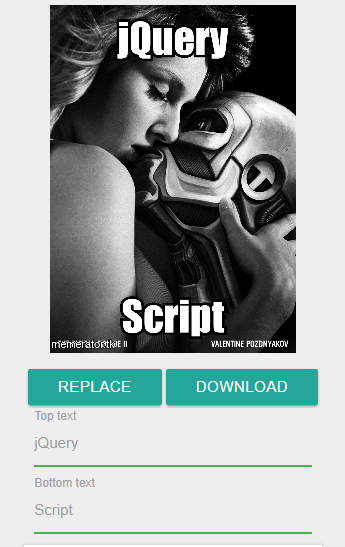 jQuery bookingPlaner
A gambeling with jquery and its possibilities about useful things.
jQuery color-time
Open-source JavaScript/jQuery application that converts current time to color.
jQuery trackThis.js
Simple tracking plugins for Google Analytics inspired by (googleanalytics/autotrack).
[Download]
3D Transform Image with Snow
3D Transform Image with Snow built using jQuery/CSS/HTML.
jQuery inshide
A jQuery plugin to add class to elements based on their position inside their parent.
jQuery Ranfolio
Ranfolio is a simple jQuery plugin which allowed to make creative portfolio.