An event calendar allows you to easily manage and share single/recurring events on a weekly, monthly, or yearly calendar interface.
This is a list of 10 best, carefully selected jQuery and PURE JavaScript calendar plugins for organizing and showing events. I hope you like it.
Originally Published May 14 2019, updated Feb 22 2020
Table of contents:
jQuery Calendar Plugins:
e-calendar is a lightweight and easy to use jQuery plugin that helps you to create an intuitive event calendar widget on your website.
---
Monthly is a jQuery plugin that provides responsive and easy-to-customize event calendar and date picker for your web application.
---
CLNDR.js is a jQuery plugin based on moment.js and underscore.js that allows you to create a calendar with event support using HTML template.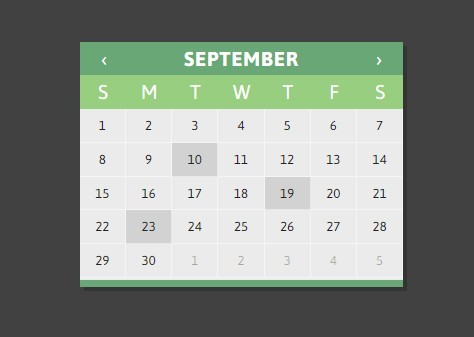 ---
Zabuto Calendar is a jQuery calendar plugin working with twitter's bootstrap that allows you to create a monthly calendar with ajax data events support on your web page.
---
Calendar.js is highly customizable jQuery plugin that helps you create inline event calendars and date pickers for your website or web application.
---
Vanilla JS Calendar Libraries:
FullCalendar is a feature-rich JavaScript Calendar Plugin for creating a smart, full size, drag and drop Calendar widget on your webpage.
---
Caleandar.js is a simple JavaScript library used for generating a themeable inline calendar on the webpage that supports custom events defined in the JavaScript.
---
Timetable.js is a tiny vanilla javascript plugin used to display your scheduled events in a responsive, horizontal timetable.
---
A vanilla JS day view calendar which enables you to view all your events by the hour.
---
tui.calendar is a powerful, full-featured calendar library used to showcase custom events, schedules, tasks in daily, weekly, and monthly views.
---
Conclusion:
Want more jQuery plugins or JavaScript libraries to create awesome event calendars on the web & mobile? Check out the jQuery Calendar and JavaScript Calendar sections.
More Resources: