Toast notification is a popular alert/push notification system introduced in Android/Material Design.
The toast displays an unobtrusive and non-block popup box to send informational messages to your mobile and web users. In general, the toast notification will automatically dismiss itself after a timeout you specify.
The Best Toast Notification Plugin
This is a list of 10 best toast notification plugins in jQuery and/or Vanilla JavaScript that makes it simple to create and display Android style toasts in your web pages or web applications. I hope you like it.
Originally Published Dec 22 2017, updated Jan 16 2021
Table of contents:
jQuery Toast Notification Plugins:
Toastr is a simple yet robust jQuery toast notification plugin which lets you create highly customizable toast messages on your webpage.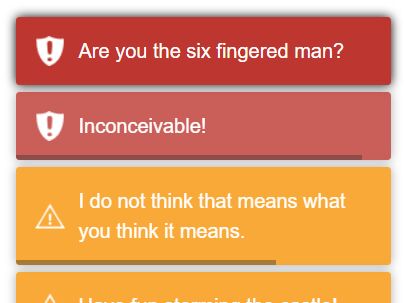 ---
The jQuery Toast plugin makes it easier to create customizable toast-style temporary alert messages on the webpage using Bootstrap 4 toasts component.
---
Toast is a jQuery notification plugin used to display animated, highly customizable & styleable, stackable visual feedback messages on your web page.
---
flash.js is a minimal yet customizable jQuery notification plugin for creating animated flash/toast messaging system to provide unobtrusive user feedback on the web application.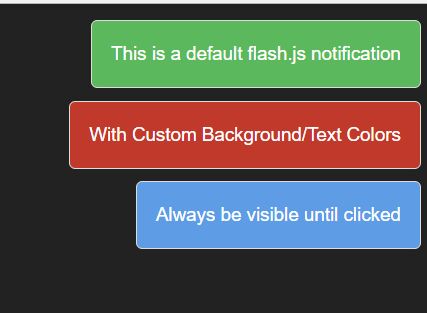 ---
The Toaster.js jQuery plugin let's you create Material Design inspired, highly customizable, snackbar- & toast-like notification popups on the webpage.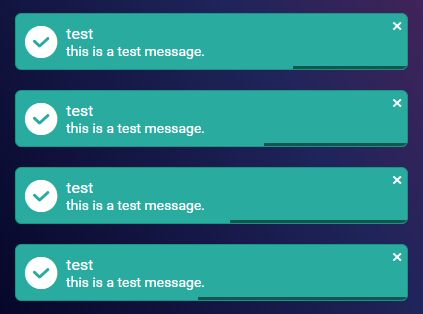 ---
Vanilla JS Toast Notification Libraries:
toast.js is a super simple JavaScript library that shows Android style toast messages on your web applications. The toast message will destroy itself in a given amount of time.
---
TaTa.js is an easy-to-use JavaScript plugin for showing toast-like notification popups on your web app.
---
VanillaToasts is a lightweight and easy-to-use vanilla JavaScript library for displaying toast-style notifications on your website / web application. Currently supports 4 different types of notifications: success, info, warning and error.
---
Yet another ES6 notification library that helps you display animated Material inspired toast messages on the webpage.
---
A Vanilla JavaScript dialog popup library to create alert notifications, confirm popup boxes, and toast messages on the web app.
---
More Sources:
Want more jQuery plugins or JavaScript libraries to create awesome toasts on the web & mobile? Check out the jQuery Toast Message and JavaScript Toast sections.
If you like Material Design, you might also like our another list of 10 Best Snackbar Plugins.
Not a jQuery user? Check out the 10 Best Toast Notification JavaScript Libraries for more Material Design Toaster solutions in Vanilla JavaScript.
You might also be interested in the 7 Best Material Design Inspired Toast Components for Vue.js based web applications.