What Is Dual List Box?
Dual List Box is a UI design pattern used to replace the multiple select for better user experience.
In general, a Dual List Box component allows the users to move a single or multiple items between 2 side-by-side select boxes via drag'n'drop or button-based controls.
The Best Dual List Box Plugin
Here are the 10 best jQuery and Vanilla JavaScript Dual List Box plugins that provide an advanced, user-friendly multiple select experiences on your web app. Have fun.
Originally Published Oct 17 2019, updated Jan 18 2023
Table of contents:
jQuery Dual List Box Plugins:
A lightweight JavaScript library that transforms the normal multiple select list into a searchable dual list box interface for easier option selection.
---
A jQuery plugin that converts a multiple select into two-side select boxes so the users can move items between two boxes by selecting items(s) and clicking on arrow buttons.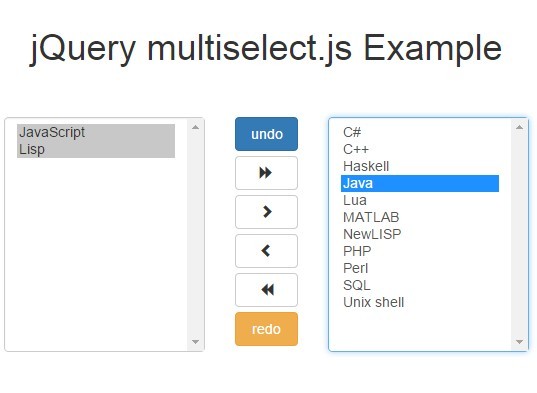 ---
A jQuery & jQuery UI component for creating a drag'n'drop multi-selection list box with ease. The plugin allows you to move the currently selected items to another container by using the drag and drop method.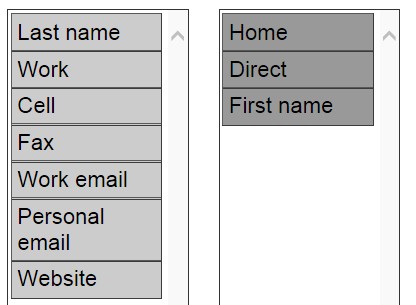 ---
Yet another jQuery plugin for creating a multi-selectable dual list box where the users are able to move items between two filterable lists.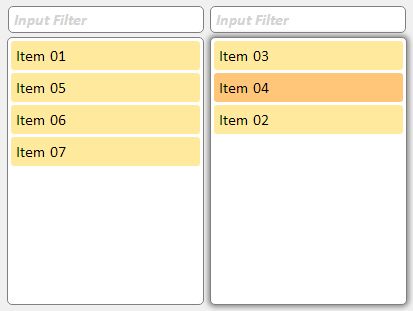 ---
Bootstrap Dual Listbox is a responsive and touch enabled jQuery dual select boxes plugin for Bootstrap that allows you to move items between 2 list boxes.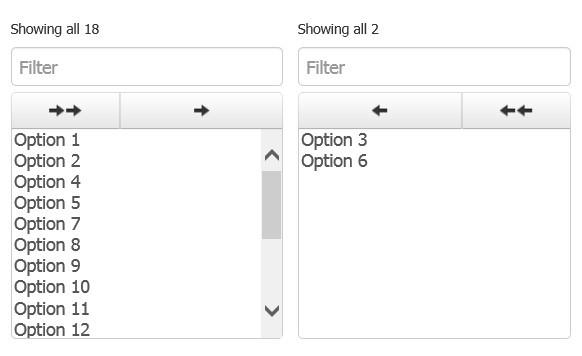 ---
Transfer is a powerful, dynamic, groupable & searchable Dual Listbox plugin where the users are able to move groups and items between 2 side-by-side list boxes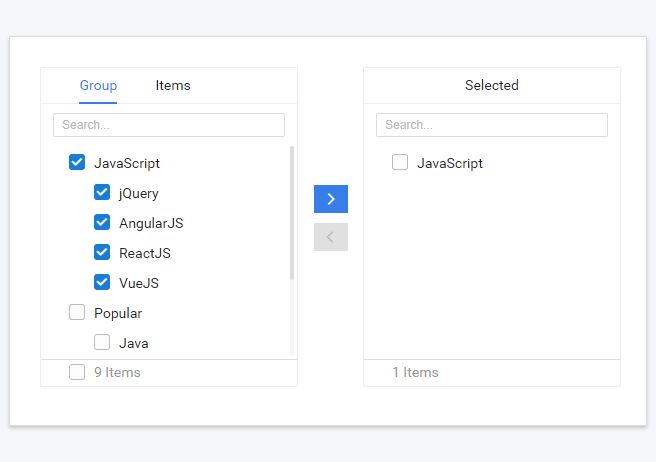 ---
A lightweight and simple-to-use jQuery multiple selection (dual list box) plugin which enables the user to move options between two select boxes a button-based interface.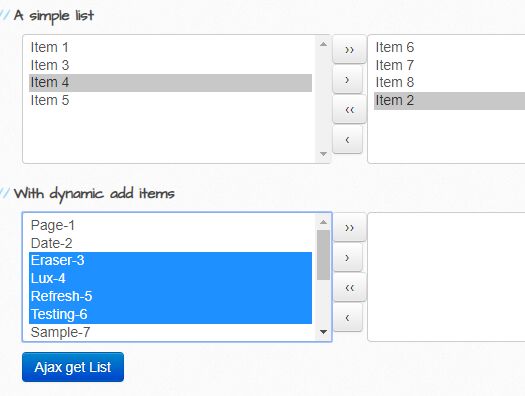 ---
Vanilla JavaScript Dual List Box Plugins:
multi.js is a lightweight JavaScript plugin that transforms the normal multiple select into a filterable/searchable dual list box interface for easier option selection. You can switch options between 2 select boxes by clicking.
---
A pure JavaScript plugin that converts the normal select box into a searchable dual list box where the users are able to move options between two selection panels.
---
A dual list box style picker component which allows you to move any number of items between two html lists using mouse click or touch tap.
---
More Resources:
Seeking more jQuery plugins or JavaScript libraries to create awesome Dual List Box on the web & mobile? See jQuery Dual List Box and JavaScript Dual List Box sections for more details.
See Also: