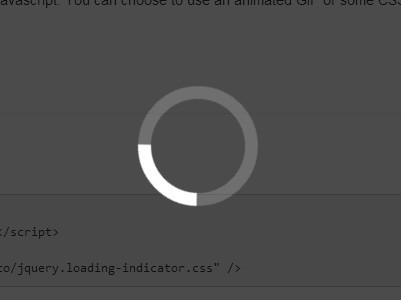 | | |
| --- | --- |
| File Size: | 15.6 KB |
| Views Total: | 22274 |
| Last Update: | |
| Publish Date: | |
| Official Website: | Go to website |
| License: | MIT |
| | |
A simple lightweight jQuery plugin for creating a loading spinner to indicate the loading progress using an animated GIF or a CSS3 loader.
How to use it:
1. Load the jQuery library together with the jQuery Loading Indicator plugin's Javascript and CSS in your page.
<link rel="stylesheet" href="path/to/jquery.loading-indicator.css">

<script src="//ajax.googleapis.com/ajax/libs/jquery/1.11.1/jquery.min.js"></script>
<script src="path/to/jquery.loading-indicator.js"></script>
2. Call the plugin on a container element where you want to apply a loading indicator.
$('body').loadingIndicator();
3. Available options.
useImage: false: Adds image to the wrapper if true. Otherwise it adds a css3 loader.
showOnInit: true: shows loader on init
loadingImage: "../src/images/loader.gif": Path to the loading gif. Only used when useImage: true
loadingClass: "loader": class for loader. Only used when useImage: false
wrapperClass: "loading-indicator-wrapper":class for the loading wrapper
4. You can find more CSS3 based loading spinners in this post.
---
This awesome jQuery plugin is developed by tobaiasjl. For more Advanced Usages, please check the demo page or visit the official website.