| | |
| --- | --- |
| File Size: | 7.27 KB |
| Views Total: | 1789 |
| Last Update: | |
| Publish Date: | |
| Official Website: | Go to website |
| License: | MIT |
| | |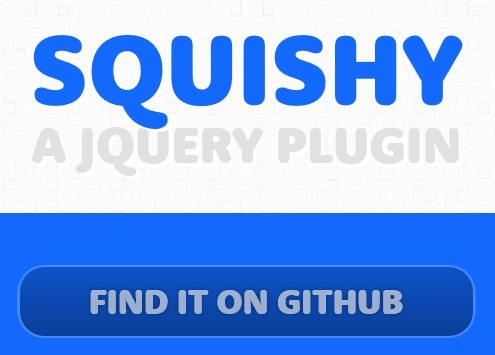 Squishy.js is a lightweight jQuery plugin for responsive web design that automatically resizes the text to exactly fit the container when window size changed.
Basic Usage:
1. Load the latest jQuery javascript library and jQuery.Squishy.js script in the bottom of your document

<script src="http://code.jquery.com/jquery-latest.min.js"></script>
<script src="jquery.squishy.js"></script>
2. The html

<div class="container">
<h1 class="squishy">Squishy</h1>
<h2 class="squishy">A jQuery Plugin</h2>
</div>
3. Just call the plugin and your're done

<script type="text/javascript">
$(".squishy").squishy();
</script>
4. Some options to customize the plugin

<script type="text/javascript">
$(".squishy").squishy({
maxWidth: 200, // sets the maximum width of the line of text
minWidth: 100, // sets the minimum width of the line of text
maxSize: 30, // set the maximum font size
minSize: 20, // set the minimum font size
runAutomatically" : true,
equalizeSizes : false, // make sure that the font-size of all squished elements will be only as large as the smallest one
callback: null,
condition: null
});
</script>
Change log:
2014-05-09
Updated return value for callback to use array instead of object
2014-04-29
Fixed issue with font-size declaration on span element breaking the calculation.
2014-04-16
Added condition setting to allow user to enter a function to run to determine whether the resize should occur or not
2014-03-27
Added a setting, equalizeSizes, that will make sure that the font-size of all squished elements will be only as large as the smallest one
---
This awesome jQuery plugin is developed by lemonmade. For more Advanced Usages, please check the demo page or visit the official website.