CSS natively provides a great property 'text-overflow' that allows you to truncate single-line text by hiding the overflowing strings and add an ellipsis to the end of the truncated text.
However, to this day, CSS does not have a straightforward property to deal with multi-line text truncation.
For those who'd like to have a simple solution to truncate multi-line text for long text blocks (e.g. blog excerpts, product description, etc), check out this list of 10 best jQuery and Vanilla JavaScript plugin to truncate multi-line text with custom ellipsis and Read More/Read Less links. Have fun.
The Best Multi-line Text Truncation Plugins
Table of contents:
jQuery Multi-line Text Truncation Plugins:
dotdotdot is a smart and cross-browser jQuery plugin that truncates multiple line content to fit within your container and adds an ellipsis at the end of the text.
---
ellipsis.js is a responsive multi-line text truncation plugin that truncates your long text by a specific number of lines and adds "..." to the end of the word.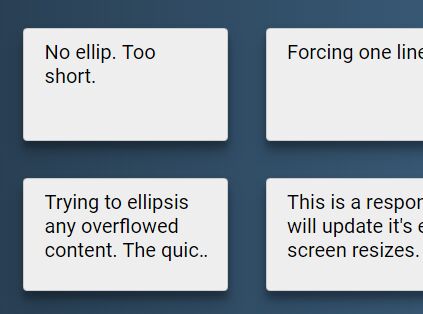 ---
show-hide-text is a small jQuery based 'Truncate Text By The Number Of Characters' plugin which enables the users to show and hide long text with Read More and Read Less links.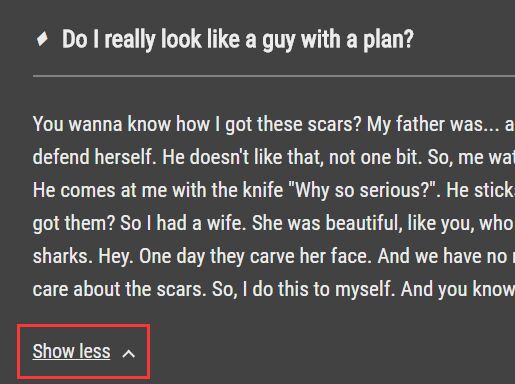 ---
fewlines is a jQuery plugin that clips the long text in a container to a specified number of lines with an ellipsis or custom toggle links.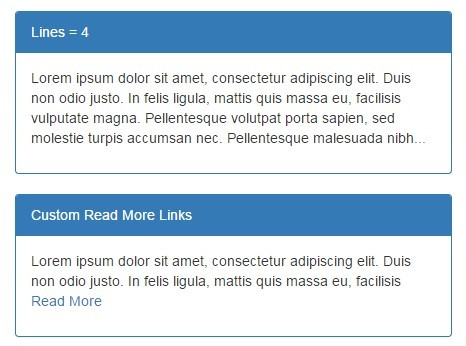 ---
text-overflow-ellipsis.js is a jQuery plugin for adding in client-side multi-line text overflow based on line number.
---
Vanilla JS Multi-line Text Truncation Plugins:
A really lightweight (~2kb minified) and cross-browser JavaScript library that truncates text by words and shows/hides text blocks with Read More and Read Less links.
---
Ellipsis.js is a pure JavaScript library for responsive text truncation which enables you to truncate multi-line text within a specified DOM element(s) with ellipsis.
---
Shave.js is a lightweight, flexible JavaScript library used for truncating multiple lines of text to a height you specify. With or without custom ellipsis character.
---
ellipsed.js is a very small(2kb) JavaScript library that truncates your long text to a specific number of lines.
---
cropCopyRestore.js is a standalone JavaScript library which allows to truncate long text by lines and provides an accessible way to toggle the truncated content with a smooth sliding effect.
---
Conclusion:
Want more jQuery plugins or JavaScript libraries to apply Text Truncation effect on the web & mobile? Check out the jQuery Text Truncation and JavaScript Text Truncation sections.