What Is Guided Tour?
Guided Tour is an interactive, wizard-style user interface that can be used to guide your users through a tour of your app.
Great for how-tos, application help, newbie guides, new features, featured content, and step-by-step workflow demonstrations of your web applications.
The Best Guided Tour Plugin
In this post, I'm glad to introduce you the 10 best (top-downloaded) and full free guided tour plugins implemented in jQuery and/or Pure (Vanilla) JavaScript. Have fun.
Table of contents:
jQuery Guided Tour Plugins:
Trip.js is a jQuery plugin that helps you create a customizable and skinable website tour with an auto step-by-step guide for introducing tutorial and new features for your visitors.
---
Intro.js is a simple and fast js library that makes it easier to create Step By Step website tour guide with keyboard and mouse support.
---
Chariot is a jQuery site guide/tour/wizard plugin for generating step-by-step tours that allow the users to walk through your website & web app using animated, easy-to-style, tooltip-like popup layers.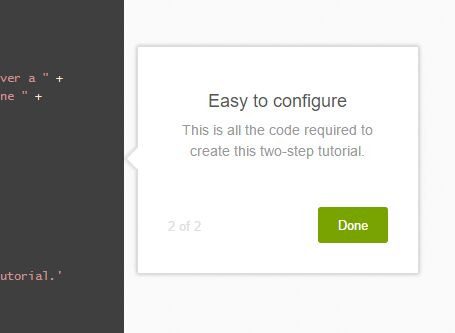 ---
Hopscotch is a lightweight jQuery plugin that implement smooth and customizable website feature tours using JSON object on your web page.
---
Joyride is a cool and mobile-friendly jQuery plugin for easily and quickly creating feature tours for your website or web application using small tooltips.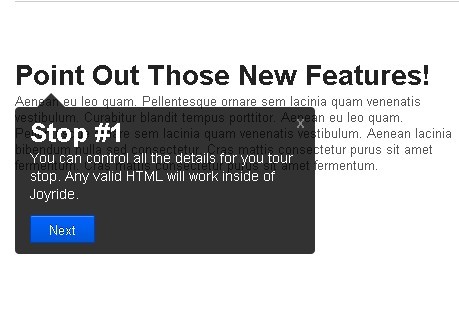 ---
Vanilla JS Guided Tour Plugins:
shepherd is a JavaScript library that creates an interactive, accessible, dynamic visual guide to let your users learn about new features and functions on your web app.
---
thunderTour is a pure vanilla JavaScript library for generating an interactive step-by-step feature tour for your website or web application.
---
uxTour.js is a lightweight vanilla JavaScript library which helps you create an interactive feature tour by highlighting the specified element with a circular mask.
---
Tiny Tour is a minimal, dynamic feature tour JavaScript library used to guide your users through a tour of your web app.
---
spotlightjs is a small standalone JavaScript library to create guided tours through your app by highlighting specific elements while navigating between steps.
---
Conclusion:
Want more jQuery plugins or JavaScript libraries to create awesome Guided Tour on the web & mobile? Check out the jQuery Guided Tour and JavaScript Guided Tour sections.