Markdown is a lightweight and popular markup language that provides plain-text-formatting syntax to quickly write HTML content for the web without writing html.
If you're developing a content driven website or web app, you might need a markdown editor embedded in the page to help users write articles, comments, feedbacks in an easy and convenient way.
Here is a list of 10 best WYSIWYG Markdown Editors implemented in jQuery or plain JavaScript, which is easy to embed into your existing web project to help better writing.
Table of contents:
Best jQuery Markdown Editors
Bootstrap Markdown Editor uses jQuery, Bootstrap 3, Ace.js and Marked.js to create a simple, clean WYSIWYG markdown editor with live preview support. Key features: 3 editor mode: edit, fullscreen and live preview. Supports for image uploadi
---
A jQuery/Bootstrap plugin that helps you render a customizable WYSIWYG markdown editor from a normal textarea element.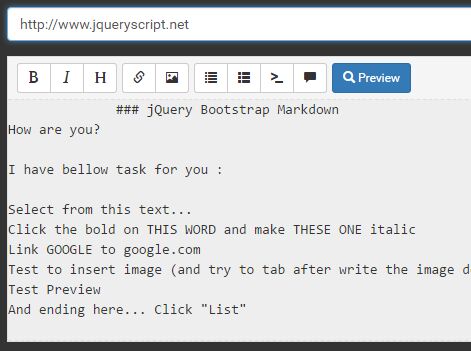 ---
The tail.writer jQuery plugin turns textarea fields into WYSIWYG markdown editors, which support the GitHub flavored Markdown markup language.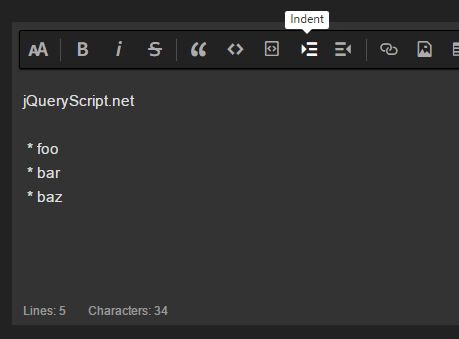 ---
Just another jQuery based WYSIWYG markdown editor that features instant preview, customizable editor bar and multiple instance on one page.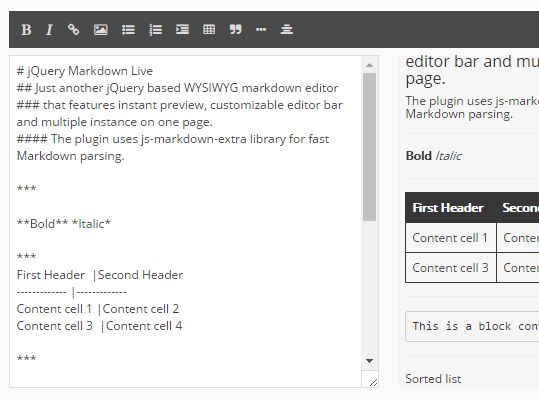 ---
Markdown is a lightweight jQuery plugin for creating a simple markdown editor that allows the user to easily and quickly insert markdown syntax to a textarea.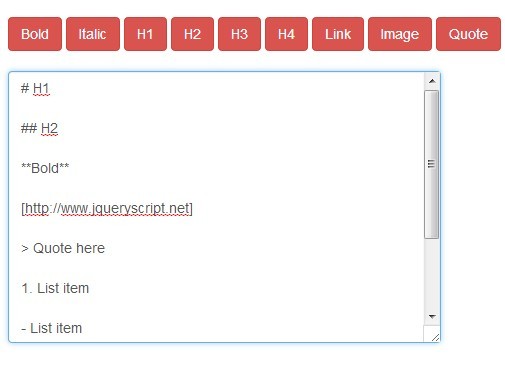 ---
Best Vanilla JS Markdown Editors
tui.editor is a powerful, extensible, full-featured, multi-language WYSIWYG Markdown Editor which can be implemented in either JavaScript or jQuery.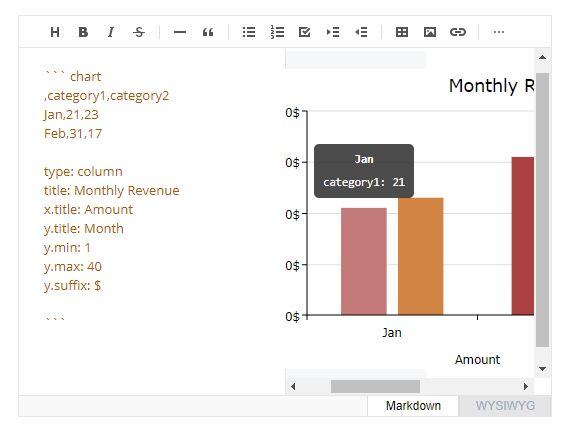 ---
A simple, clean, easy-to-extend and WYSIWYG-style markdown editor that works on both client side or server side.
---
A simple, lightweight, fast markdown parser / editor which allows to transform Markdown into HTML, implemented in pure JavaScript.
---
A standalone JavaScript library for converting a normal textarea into a WYSIWYG markdown editor.
---
A JavaScript library used to render a simple WYSIWYG markdown text editor in the document.
---
More Resources:
Want more jQuery plugins or JavaScript libraries to create WYSIWYG Markdown Editors on the web & mobile? Check out the jQuery Markdown Editor and JavaScript Markdown Editor sections.
See Also: