| | |
| --- | --- |
| File Size: | 555 KB |
| Views Total: | 7882 |
| Last Update: | |
| Publish Date: | |
| Official Website: | Go to website |
| License: | MIT |
| | |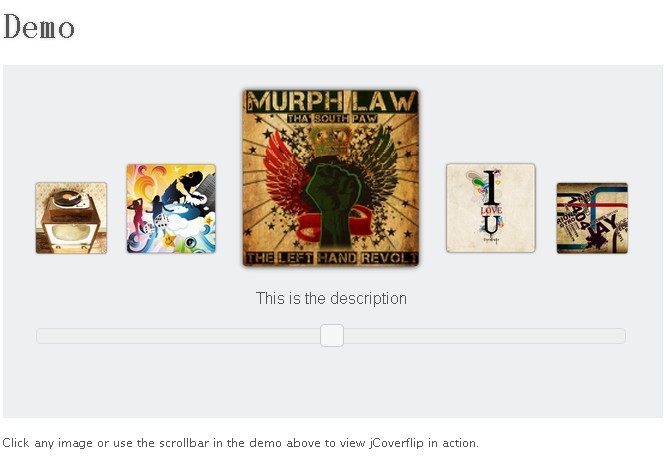 jCoverflip is a compact Jquery Image Slider Plugin that allows you to present featured website content in a visually appealing manner. The plugin is quick setup and is highly configurable, and can run as a Drupal Module or standalone. jCoverflip enables quick, easy and granular customization to the look and feel and feature set.
Features:
Easy to Use. Drag or click to showcase featured content.
Easy Installation. Simply download, configure and push content to the jCoverflip widget.
Customizable. Control the number of items, colors, fonts and styles through CSS.
Flexible Integration. The widget can be run as a Drupal module or as a standalone widget for your website.
Ready to Use. Out-of-the-box the widget utilizes a clean default style.
Open Source. Distributed using the GNU General Public License and built using jQuery and jQuery UI.
---
This awesome jQuery plugin is developed by jcoverflip. For more Advanced Usages, please check the demo page or visit the official website.