| | |
| --- | --- |
| File Size: | 6.23 KB |
| Views Total: | 15181 |
| Last Update: | |
| Publish Date: | |
| Official Website: | Go to website |
| License: | MIT |
| | |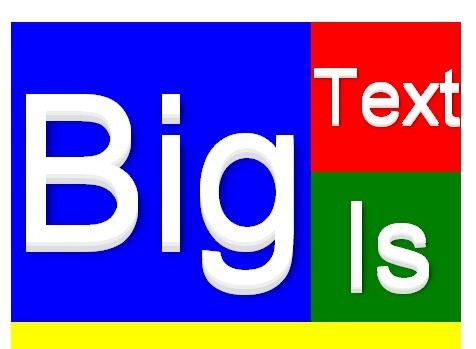 Bigtext is a jQuery text plugin that automatically enlarge the font size of your text to fill its parent container, without overflowing the container Div.
Features:
Checks both heights and widths to prevent overflowing.
Auto resizes the text on window's size changed.
Rotates the text at any angle.
Limits the font size vertically or horizontally based only on the parent element.
Has an option to limit the maximum font size of your text.
You might also like:
Basic Usage:
1. Include the jQuery javascript library and jQuery Bigtext plugin on your web page.
<script src="http://ajax.googleapis.com/ajax/libs/jquery/1.10.2/jquery.min.js"></script>
<script src="jquery-bigtext.js"></script>
2. Create a container with fixed width and height, and then add some text into this container.
<div class="container" style="width: 300px;height: 200px;"> 
<span class="demo"> YOUR TEXT</span> 
</div>
3. Call the plugin. The text will be enlarged as big as possible to fit the container.
<script type="text/javascript">
$(document).ready(function() {
$(".demo").bigText();
});
</script>
4. Available options.
<script type="text/javascript">
$(document).ready(function() {
$(".demo").bigText({
rotateText: null, // Rotates the text by X degrees
fontSizeFactor: 0.8, // used to give some vertical spacing for letters that overflow the line-height 
maximumFontSize: null, // limits the maximum font size of your text
limitingDimension: "both", // In which dimension the font size should be limited. Possible values: "width", "height" or "both". 
horizontalAlign: "center",
verticalAlign: "center",
textAlign: "center"
});
});
</script>
Change logs:
2015-01-07
2014-05-13
Major cleanup and added some new functionality
---
This awesome jQuery plugin is developed by DanielHoffmann. For more Advanced Usages, please check the demo page or visit the official website.