| | |
| --- | --- |
| File Size: | 341 KB |
| Views Total: | 1719 |
| Last Update: | |
| Publish Date: | |
| Official Website: | Go to website |
| License: | MIT |
| | |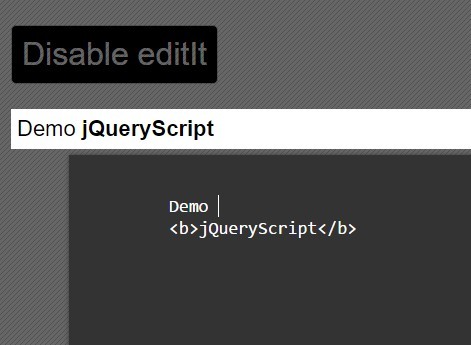 mb.editIt is a robust, modular jQuery WYSIWYG HTML editor for web content that allows you to edit any inline html content and returns the changed data for further processing.
Basic usage:
1. Add jQuery library together with the jQuery mb.editIt plugin's JS and CSS files into your html page.
<link rel="stylesheet" href="/path/to/editIt.min.css">
<script src="/path/to/jquery.min.js"></script>
<script src="/path/to/jquery.mb.editIt.js"></script>

2. Create a DIV element you want to make editable.
<div id="demo"></div>

3. Initialize the html editor. The plugin will generate an 'Edit Source' and a 'Preview' buttons for your editable element.
$('#demo').editIt();

4. All default options.
textareaId: null,
pasteAs: "cleanHTML", // "cleanHTML", "text", "HTML", "none"
blockImages: true,
enablePreview: true,
toolBar: "default",
toolBarIcon: true,
enableSourceMode: true,
styleWithCSS: false,
defaultLang: "en"

Change log:
v1.1.26 (2015-10-25)
better implementation for the toolbar plugins commands injection
bugfix on dropdown action event
v1.1.25 (2015-10-24)
adding key verification
Added "isAlwaysVisible" property to set the toolbar at the top of the editor and always available.
Added removeBlock plugin
drawbutton util adding e.preventDefault
trying to fix pastehandler on Safari
v1.1.1 (2015-10-12)
various fixes.
Added i18 manager based on json files
---
This awesome jQuery plugin is developed by pupunzi. For more Advanced Usages, please check the demo page or visit the official website.