What Is Check All Checkbox
A Check All checkbox enables the user to select/deselect all checkboxes in a group via a 'Master' checkbox element.
When a Check All checkbox is checked, all related checkboxes are checked accordingly; when all checkboxes are checked, the Check All checkbox is also checked.
It is useful when you're building a multi selection component in the web app that makes it easy to select and deselect all items (like table rows, list items, todo lists, etc) with a single click.
The Best Check All Checkbox Plugin
There is currently no pure CSS solution to handle Check All functionality due to the limitations of CSS.
To implement a Check All Checkbox on your web app, here are 10 best jQuery and Vanilla JavaScript plugins to check/uncheck multiple checkboxes with a single checkbox. Have fun.
Table of contents:
Best jQuery Check All Checkbox Plugins
Just another jQuery Check All plugin which enables a 'Master' checkbox to select/unselect all the related (children) checkbox inputs with just one click.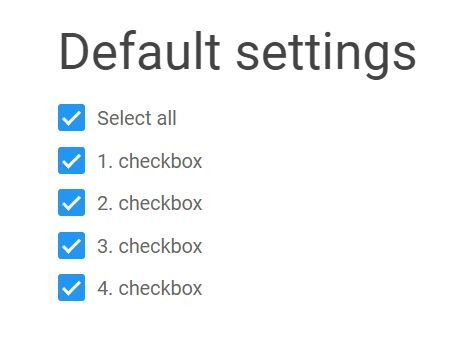 ---
Yet another jQuery plugin which allows the visitor to check (or uncheck) all checkboxes in a form or specific scopes.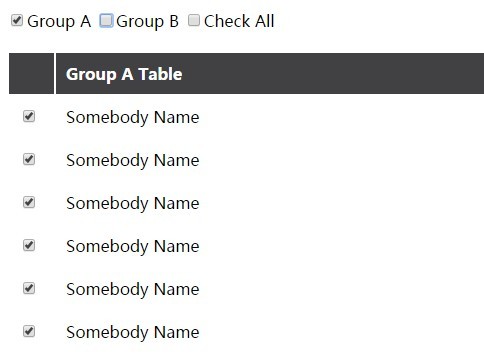 ---
Just another jQuery plugin that adds check all and uncheck all functionalities to the checkbox group.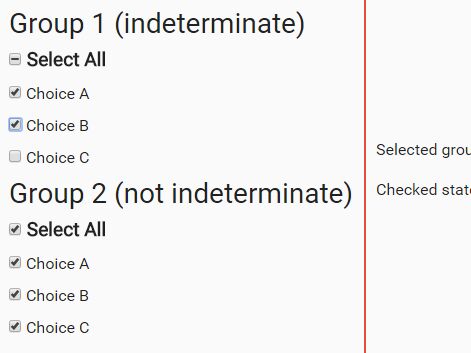 ---
A simple but useful jQuery plugin that offers a check all button for users to check all the checkboxes with one click.
---
Just another jQuery 'Check All' plugin that enables a checkbox to check/uncheck all of its child checkboxes when checked/unchecked.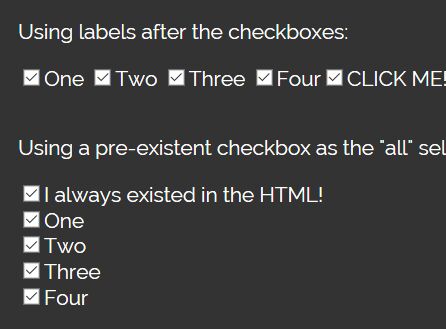 ---
cbFamily is a small jQuery plugin for checkbox group (parent/children) functionality.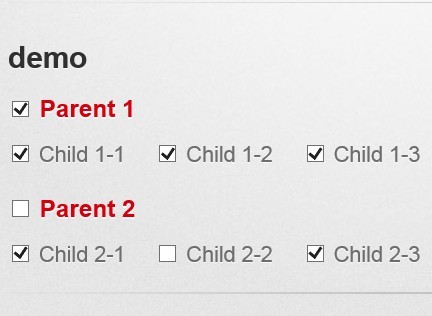 ---
Check All is a lightweight and user-friendly jQuery plugin that allows your user to check all or uncheck all the options with one click.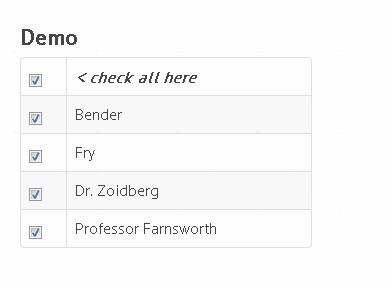 ---
Best vanilla JS Check All Checkbox Plugins
A pure JavaScript plugin for the 'check all' functionality that enables a checkbox to select/unselect all checkboxes in a group.
---
A dead simple JavaScript library that provides a SelectAll function to check and uncheck all the related checkboxes with just one click.
---
The Vanilla JavaScript version of the jQuery SelectAllCheckbox plugin that adds check all and uncheck all functionalities to checkbox groups.
---
More Resources:
Want more jQuery plugins or JavaScript libraries to create check all checkbox on the web & mobile? Check out the jQuery Check All and JavaScript Check All sections.
See Also: