What Is Tabs (Tabbed Content)
Tabs (tabbed content) is a UI component which organizes and displays multiple content sections in a single container with a tab navigation.
Your users are allowed to switch between these content sections by clicking o the tabs.
The Best Tabs Components
In this blog post you will find the 10 best jQuery, JavaScript, and Pure CSS based fully responsive tabs components for both desktop and mobile design. I hope you like it.
Originally Published Nov 13 2017, updated Feb 07 2021
Table of contents:
jQuery Tabs Plugins:
A tiny jQuery plugin for responsive Bootstrap tabs component that makes your Bootstrap tab navigation scrollable when there's no enough screen space to display all tabs.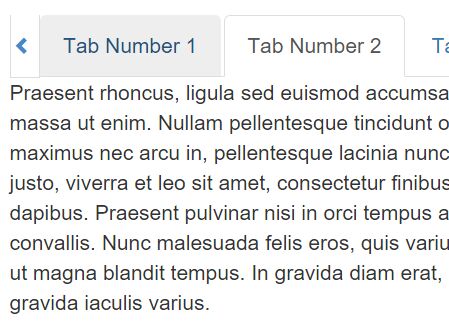 ---
Responsive Tabs is a lightweight and simple jQuery plugin for responsive tabbed interface that will transform to an accordion on window size change.
---
Easy Responsive Tabs is a simple jQuery plugin for quickly creating content Tabs which allow you organize larger groups of content into a tab interface.
---
A jQuery plugin for mobile-friendly Bootstrap tabs component that automatically switches to a collapsible accordion interface in smaller devices like mobile and tablet.
---
A responsive, multipurpose, ajax-enabled and mobile-friendly jQuery tabbed content plugin which automatically switches between tabs and accordion interfaces depending on the screen size.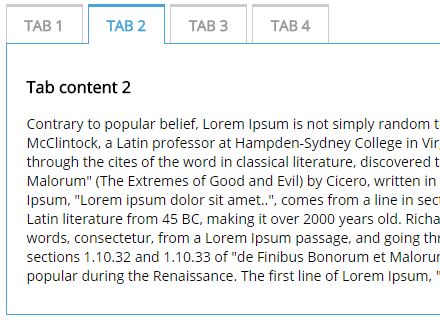 ---
Vanilla JS Tabs Libraries:
Tabbis.js is a lightweight, pure JavaScript library for generating nice, clean, nested tabs from plain HTML structure.
---
A native JavaScript plugin to generate mobile-friendly horizontal or vertical tabs from unordered HTML lists.
---
Pure CSS Tabs Components:
A pure CSS extension that creates vertically-oriented tabs component in your Bootstrap 4 project.
---
A responsive, minimal, clean tabs component that falls back to a linear content display when JavaScript is disabled.
---
Just another animated, fully responsive tabs component implemented in pure CSS / CSS3 that uses radio buttons to switch between tabbed panels by clicking on the tab navigation. You will see a vertical accordion when you open the demo page on small screens.
---
More Resources:
Want more jQuery plugins or JavaScript libraries to create awesome Tabs Components on the web & mobile? Check out the jQuery Tabs and JavaScript/CSS Tabs sections.
Seel Also: