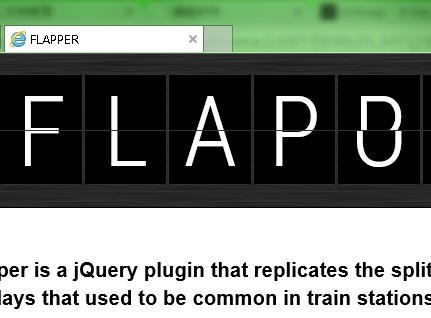 | | |
| --- | --- |
| File Size: | 49.6 KB |
| Views Total: | |
| Last Update: | |
| Publish Date: | |
| Official Website: | Go to website |
| License: | MIT |
| | |
Flapper is a jQuery text display plugin for creating animated split flap text animations that are found in train stations and airports, where they typically display departure and/or arrival information and do that cool flipping of letters to display the new information.
The animations used a rotating stack of letters and numbers printed on hinged panels. As the stack rotated, a new symbol would fall into place. Flapper recreates this effect using CSS3 transforms.
Features:
Easy to use
Themeable
Comes with six size presets and two color schemes
Supports for numeric, alphabetic, and alphanumeric displays
Two Animation Effects, with or without transform
You might also like:
Basic Usage:
1. Include the latest jQuery library and jQuery Flapper Plugin on the web page
<link href="css/flapper.css" type="text/css" rel="stylesheet" />
<script src="https://ajax.googleapis.com/ajax/libs/jquery/1.10.2/jquery.min.js"></script>
<script src="src/jquery.flapper.js"></script>
2. Include numberformatter and transform jQuery plugins for best result. But the plugin can also be used on its own with fewer special effects.
<script src="transform/dist/jquery.transform-0.9.3.min.js"></script>
<script src="numberformatter/jquery.numberformatter-1.2.3.min.js"></script>
3. Create a container where you'd like display the animation
<div class="display">
<input class="XXL" id="header_display" />
</div>
4. The javascript
<scriptlanguage="javascript">
$(document).ready(function(){
var$header_display=$('#header_display');
$header_display.flapper({
width:7,
chars_preset:'alpha'
});

setTimeout(function(){
$header_display.val('FLAPPER').change();
vartoggle=true;
setInterval(function(){
if(toggle){
$header_display.val('FLAPPER').change();
}else{
$header_display.val('').change();
}
toggle=!toggle;
},5000);
},1000);

});
</script>
5. Default settings.
width: 6,
format: null,
align: 'right',
padding: ' ',
chars: null,
chars_preset: 'num',
timing: 250,
min_timing: 10,
threshhold: 100,
transform: true,
on_anim_start: null,
on_anim_end: null
Change logs:
2015-08-18
Add in methods for adding and removing flapper digits on the fly
v1.1.3 (2014-02-14)
Set explicit content-sizing on Flapper elements
Use jQuery.inArray() to avoid problems with lastIndexOf() and IE8
v1.1.2 (2013-08-11)
Switch animation mode from fast to slow automatically.
---
This awesome jQuery plugin is developed by jayKayEss. For more Advanced Usages, please check the demo page or visit the official website.