Looking for a toggle button component to toggle something on the page just like using native checkboxes or radio buttons?
If you like our 10 Best Toggle Switches In JavaScript & Pure CSS, you might also be interested in this list of 10 best Vanilla JavaScript and jQuery Plugins for creating custom toggle buttons that enable the user to make a choice between two or more states (such as on/off) on the page. Have fun with it.
Table of contents:
jQuery Toggle Button Plugins:
A highly flexible and customizable jQuery plugin which converts the normal checkbox and radio inputs into swipe toggle switches using Bootstrap button styles.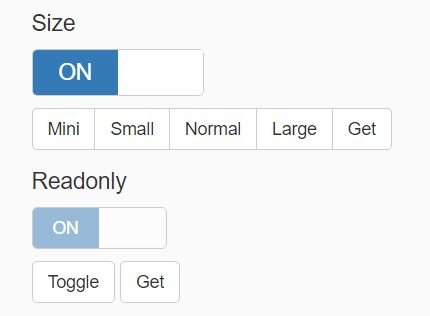 ---
Bootstrap Checkbox is a jQuery/Bootstrap plugin that converts a normal checkbox into a nice-looking toggle button control.
---
nicelabel.js is a tiny jQuery plugin that converts the default checkboxes and radio buttons into nice toggleable switches and/or selectable labels.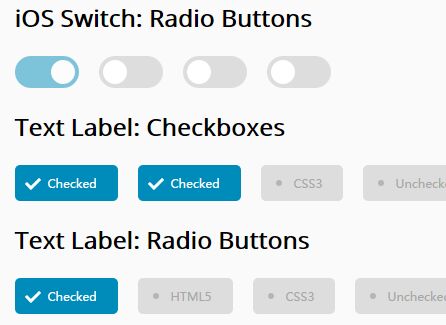 ---
btnSwitch is a simple, customizable jQuery plugin which converts any DIV elements into button or checkbox based on/off toggle switches with custom themes and callbacks support.
---
Segment.js is a super simple jQuery plugin that transform a standard HTML select box into toggleable option labels, similar to the iOS segmented control.
---
TinyToggle contains a jQuery plugin and a web font that allows you to convert checkboxes into beautiful on / off toggle buttons / switches using Html5 data-* attributes. Features: 13 different types 8 different sizes and palettes 4 callback
---
Vanilla JavaScript Toggle Button Plugins:
A vanilla JavaScript plugin that dynamically generates an inline toggle button to trigger actions when you click on the left or right button.
---
CSS Only Toggle Buttons:
A CSS only solution that converts a series of radio inputs into toggle buttons and groups them in an inline button group with gradients.
---
A pure CSS library which converts a group or radios into responsive, customizable, SEO-friendly inline toggle button groups (also called segmented controls).
---
A CSS library that converts normal checkboxes and radio buttons into checkable (toggleable) elements (like buttons and cards) for better UX.
---
More Resources:
Seeking more jQuery plugins or JavaScript libraries to create awesome toggle buttons on the web & mobile? See jQuery Toggle Button and JavaScript/CSS Toggle Button sections for more details.