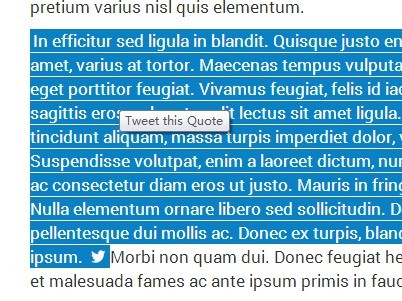 | | |
| --- | --- |
| File Size: | 16.8 KB |
| Views Total: | |
| Last Update: | |
| Publish Date: | |
| Official Website: | Go to website |
| License: | MIT |
| | |
Shareable Quote is a simple lightweight jQuery plugin that turns any part of your text into "Tweetable" quotes with a Twitter share icon. Useful for encouraging your visitors to spread your content through Twitter.
See also:
How to use it:
1. Load the shareable-quote.css stylesheet in the head section of the document.
<link href="css/tweetable.css" rel="stylesheet">

2. Load Font Awesome 4 for twitter icons.
<link href="//netdna.bootstrapcdn.com/font-awesome/4.2.0/css/font-awesome.min.css" rel="stylesheet">

3. Load the shareable-quote.js in the footer but after jQuery JavaScript library.
<script src="//code.jquery.com/jquery-1.11.1.min.js"></script>
<script src="js/shareable-quote.js"></script>

4. Wrap the text into an inline element using data-* attributes
<span class="demo" 
  data-text="Tweetable Quotes"
  data-tweet="Tweetable Quotes via @jqueryscript">
</span>

4. Call the plugin to highlight the text and make it Tweetable.
$( '.demo' ).tweetable();

Change log:
v1.5 (2014-12-11)
rename to Tweetable
Now the display text and tweet text are separate attributes.
---
This awesome jQuery plugin is developed by blakecscott. For more Advanced Usages, please check the demo page or visit the official website.