| | |
| --- | --- |
| File Size: | 78.1 KB |
| Views Total: | 79232 |
| Last Update: | |
| Publish Date: | |
| Official Website: | Go to website |
| License: | MIT |
| | |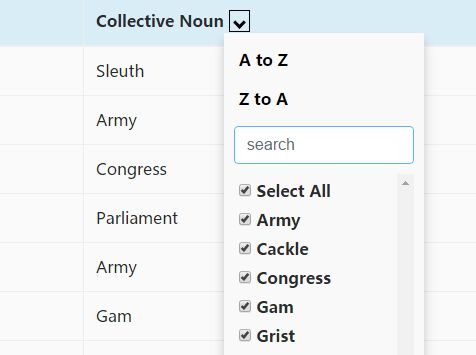 excel-bootstrap-table-filter.js is a jQuery plugin that creates multiple filters in your Bootstrap table columns to narrow down or re-sort the tabular data just like in the MS Excel.
Features:
Adds the drop-down arrows to the columns you want to filter.
Check or un-check the checkboxes to filter the data.
Click on the 'A-Z' or 'Z-A' to sort your table data in Ascending or Descending order.
Allows to filter the table data by typing specific strings in the search field.
How to use it:
1. To get started, make sure you have jQuery library and Bootstrap framework are loaded in the document.

<script src="/path/to/jquery.min.js"></script>
<link rel="stylesheet" href="/path/to/bootstrap.min.css">

2. Include this plugin's JavaScript and CSS files into the document.

<script src="excel-bootstrap-table-filter-bundle.js"></script>
<link rel="stylesheet" href="excel-bootstrap-table-filter-style.css">

3. Call the main function excelTableFilter on the html table and the plugin will do the rest.

$('table').excelTableFilter();

Change logs:
2018-01-24
2017-10-13
Fixed: line vanishes after filtering and then removing the filter
2017-08-15
Allows two more tables on the same page
2017-08-11
fixed index mismatch, number sort and trailing space issues
---
This awesome jQuery plugin is developed by chestercharles. For more Advanced Usages, please check the demo page or visit the official website.