| | |
| --- | --- |
| File Size: | 744 KB |
| Views Total: | 7687 |
| Last Update: | |
| Publish Date: | |
| Official Website: | Go to website |
| License: | MIT |
| | |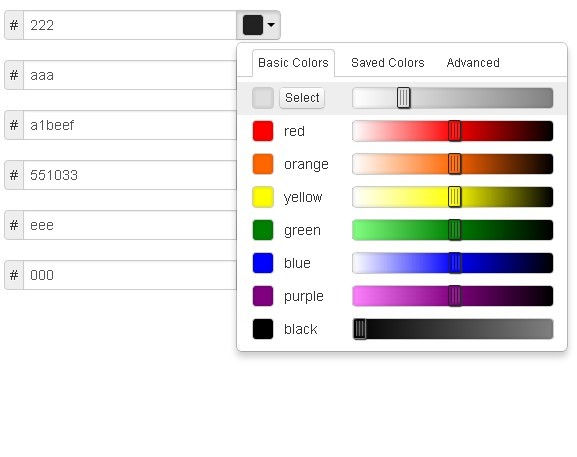 Pick-a-Color is a cool and easy-to-use jQuery plugin that helps you create beautiful and powerful color picker using Twitter's bootstrap framework.
Features:
Flexible text entry: Accepts HEX, RGB, HSL, HSV, HSVA, and names.
Saved colors: Saves up to 16 recently used colors. Colors are stored in localStorage or cookies.
Advanced: Advanced tab lets users modify hue, saturation, and lightness to make any color their hearts desire.
Basic color palate: Easy-to-use preset colors that can be lightened and darkened.
Chunky mobile styles: Dragging is easy, even on a touch device.
Basic Usage:
1. Include necessary CSS files in your head section

<link rel="stylesheet" href="css/bootstrap-2.2.2.min.css">
<link rel="stylesheet" href="css/pick-a-color-1.1.0.min.css">
2. Markup

<div class="pick-a-color" id="border-color" data-border-color="222"></div>
3. Include necessary javascript files on your page

<script src="js/jquery-1.9.1.min.js"></script> 
<script src="js/tinycolor-0.9.14.min.js"></script> 
<script src="js/pick-a-color-1.1.0.min.js"></script> 
4. Call the plugin with options

<script type="text/javascript">
$(document).ready(function () {
  $(".pick-a-color").pickAColor({
    showSpectrum            : true, // Specifies whether or not there is a spectrum next to each basic color allowing users to lighten and darken it.
    showSavedColors         : true, // Specifies whether or not there is a tab called "Saved Colors" that keeps track of the last 16 colors a user customized.
    saveColorsPerElement    : false, // Specifies whether there is a tab called "Advanced" that allows users to modify hue, lightness, and saturation to make any color their hearts desire.
    fadeMenuToggle          : true, // Specifies whether the dropdown menu should fade in and out when it's opened and closed. This setting is overridden for mobile devices, in which Pick-a-Color never ever ever uses a fade because WOW they look terrible in mobile browsers.
    showAdvanced            : true // Specifies whether there is a tab called "Advanced" that allows users to modify hue, lightness, and saturation to make any color their hearts desire.
    showBasicColors         : true, // Specifies whether or not the dropdown should show a list of basic colors that the user can select from. 
    showHexInput            : true, // Specifies whether or not to show the hex text input. If false the input has an input type of 'hidden'. 
    allowBlank              : true // Specifies whether or not the field can be left blank. Use this if the color input is not a required field. 
    inlineDropdown          : false
});
});
</script>
Change Log:
v1.2.2 (2014-04-25)
add option for inline dropdown on desktop.
v1.2.2 (2014-02-19)
toggle dropdown visibility onBlur as well as onFocus.
if input field is disabled, don't allow users to open the dropdown.
v1.2.0 (2014-02-19)
v1.1.8 (2013-10-20)
v1.1.4 (2013-05-21)
Fixed bug preventing advanced spectrums from updating in IE10, moved from conditional comments to IE version specific featured detection.
v1.1.3 (2013-05-15)
use the ID of the initializing div to become the name of the input field
---
This awesome jQuery plugin is developed by lauren. For more Advanced Usages, please check the demo page or visit the official website.