| | |
| --- | --- |
| File Size: | 13.4KB |
| Views Total: | 1719 |
| Last Update: | |
| Publish Date: | |
| Official Website: | Go to website |
| License: | MIT |
| | |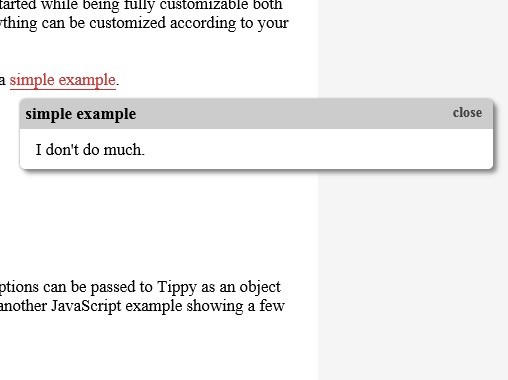 Tippy is an easy-to-use and powerful jQuery plugin for creating highly customizable and flexible tooltips with many configuration options on your website.
Features:
Simple yet powerful
Fully customizable both globally and per-tooltip
Tooltips can be wrapped in any element and options are specified using the html5 data-* attributes.
Can be set to draggable and closeable
A lot of options to create your own tooltips
Basic Usage:
1. Include the latest jQuery library and jQuery Tippy Plugin on your website
<script src="http://ajax.googleapis.com/ajax/libs/jquery/1.10.2/jquery.min.js"></script>
<script src="jquery.tippy.js"></script>
2. Include required jQuery Tippy CSS on your website
<link rel="stylesheet" type="text/css" href="jquery.tippy.css" />
3. The html. Using the html5 data-* attributes to set the options per-tooltip
<span class="tippy" data-title="simple" data-showheader="false">Demo</span>
4. Call the plugin
<script type="text/javascript">
$(document).ready(function() {
$('.tippy').tippy();
});
</script>wheader="false"
4. Options
data-title="simple" data-sho<script type="text/javascript">
$(document).ready(function() {
$('.tippy').tippy();
});
</script>wheader="false"
Change log:
v1.2.2 (2013-08-19)
Restored old class names for backward compatibility with Tippy for WordPress
---
This awesome jQuery plugin is developed by thechrisroberts. For more Advanced Usages, please check the demo page or visit the official website.