What Is Character Counter?
Character counter is a useful online UI tool that calculates the number of characters that have been entered in a text field and displays the remaining number of characters allowed to be entered.
Typically used in Textarea and/Or Input Field element that limits the number of characters and shows characters used and remaining.
The Best Character Counter Plugin
This is a list of 10 best JavaScript (jQuery & Vanilla JS) plugins that make it easy to implement the Character Counter & Character Limit functionalities on your form controls. Enjoy.
Originally Published Nov 19 2019, updated Apr 6 2021
Table of contents:
jQuery Character Counter Plugins:
Bootstrap Maxlength is a beautiful jQuery plugin that displays character counter attached to the input field and limit the maximum length as user input, using Twitter Bootstrap and html5 maxlength attribute.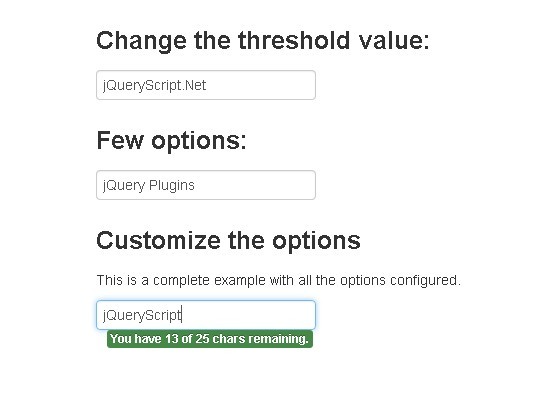 ---
limitText.js is a small jQuery plugin that limits the number of characters allowed in your text fields and automatically creates counters to display how many characters remaining.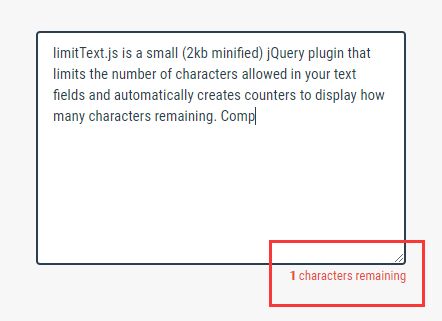 ---
In this tutorial we're going to create a twitter-like text box that displays the remaining characters count as well as limiting the max length of input text.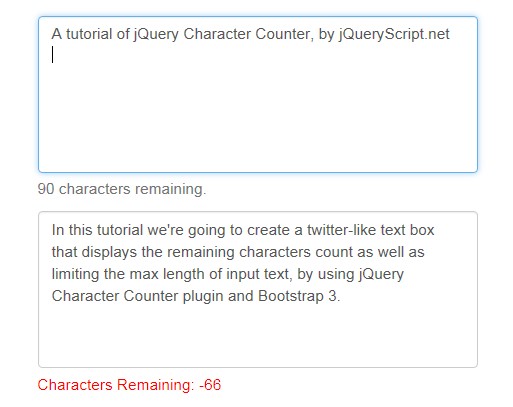 ---
Word Counter is a minimal jQuery script that adds a simple inline word and character counter to your textarea element.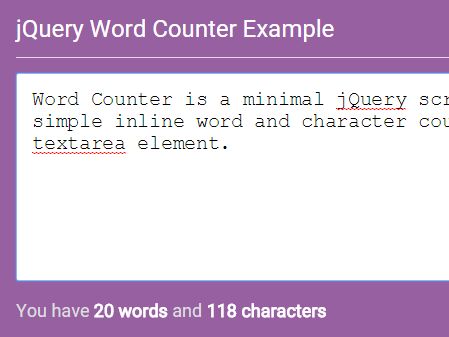 ---
SMS Counter is a simple-to-use jQuery character counter plugin especially created for SMS text messages.
---
A jQuery plugin that adds live-updating character and line counters to your textarea, as well as limiting the max number of characters and lines to be entered with a progress bar.
---
A text counter plugin that displays the number of words or characters have been typed or the remaining characters allowed to be typed in the input field or textarea.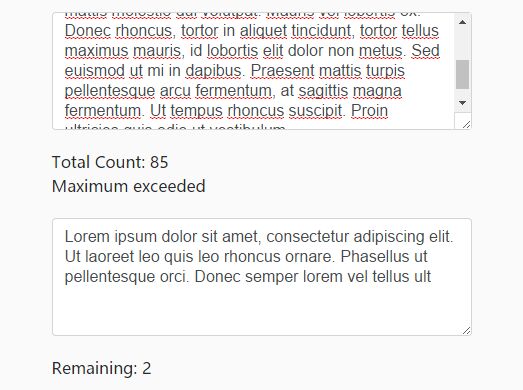 ---
Pure JavaScript Character Counter Plugins:
VCountdown is a pure vanilla JavaScript library that displays a counter for your text field to count characters down as you seen on Twitter tweet box.
---
A really simple JavaScript library that displays character counter next to your text field and stops typing when you have reached the allowed character limit.
---
CharCount is an ES6 JavaScript library that provides character counters with visual feedbacks for input and textarea elements.
---
Conclusion:
Want more jQuery plugins or JavaScript libraries to create awesome Character Counters on the web & mobile? Check out the jQuery Character Counter and JavaScript Character Counter sections.