| | |
| --- | --- |
| File Size: | 29.7 MB |
| Views Total: | 48452 |
| Last Update: | |
| Publish Date: | |
| Official Website: | Go to website |
| License: | MIT |
| | |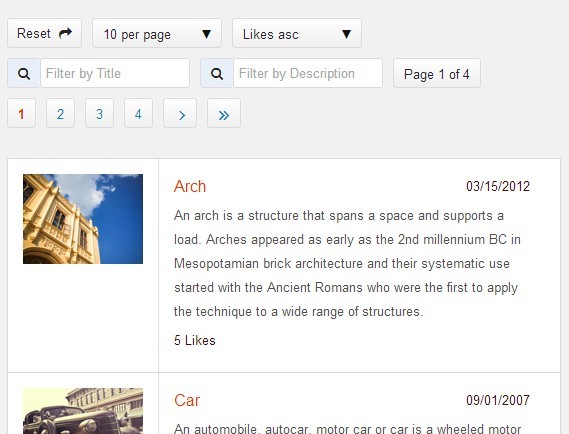 jplist is a powerful and flexible jQuery plugin that enables you to sort, paginate, filter any Html content like tables, lists, div elements etc...
Features:
Ascending and descending sorting
Alphanumeric and numeric sorting
Sorting by date and time
Auto pagination
Any number of textbox filters
Any number of drop down filters
Checkbox and radio button filters
Data sources: PHP + MySQL, ASP.NET + Sql Server, PHP + SQLite
Supports local storage and cookies
Grid/list view demo page
Fully customizable styles
Works in all major browsers
SEO friendly
Annotated source code
Getting Started:
1. Include the jQuery javascript library and the jQuery jplist plugin's javascript and CSS in the document.
<link href="css/jplist.min.css" rel="stylesheet" type="text/css" />
<script src="http://ajax.googleapis.com/ajax/libs/jquery/1.11.1/jquery.min.js"></script>
<script src="js/jplist.min.js"></script>
2. Usages:
<script type="text/javascript">	
$('document').ready(function(){

$('#demo').jplist({

//enable/disable logging information: if firebug is installed the debuging information will be displayed in the firebug console
debug: false

//main options
,itemsBox: '.list' //items container jQuery path
,itemPath: '.list-item' //jQuery path to the item within the items container
,panelPath: '.panel' //panel jQuery path
,noResults: '.jplist-no-results' //'no reaults' section jQuery path
,redrawCallback: '' //'redraw callback' function occurs on every jplist action like sort, filter, pagination etc. Click here to see a demo.
,iosBtnPath: '.jplist-ios-button'

//animate to top - enabled by data-control-animate-to-top="true" attribute in control
,animateToTop: 'html, body'
,animateToTopDuration: 0 //in milliseconds (1000 ms = 1 sec)

//animation effects
,effect: '' //'', 'fade'
,duration: 300			
,fps: 24			

//save plugin state with storage
,storage: '' //'', 'cookies', 'localstorage'			
,storageName: 'jplist'
,cookiesExpiration: -1 //cookies expiration in minutes (-1 = cookies expire when browser is closed)

//deep linking
,deepLinking: false
,delimiter0: ':' //this delimiter is placed after the control name 
,delimiter1: '|' //this delimiter is placed between key-value pairs
,delimiter2: '~' //this delimiter is placed between multiple value of the same key
,delimiter3: '!' //additional delimiter

//history
,historyLength: 10
  
//data source
,dataSource: {
 
type: 'html' //'html', 'server'
 
//data source server side
,server: {
 
 //ajax settings
 ajax:{
 url: 'server.php'
 ,dataType: 'html'
 ,type: 'POST'
 //,cache: false
 }
 ,serverOkCallback: null
 ,serverErrorCallback: null
}
}

//panel controls
,controlTypes: {
 
'default-sort':{
 className: 'DefaultSort'
 ,options: {}
}
 
,'drop-down':{
 className: 'Dropdown'
 ,options: {}
}
 
,'pagination-info':{
 className: 'PaginationInfo'
 ,options: {}
}

,'counter':{
 className: 'Counter'
 ,options: {
 ignore: '[[email protected]#$%^&*()+=`\'"\/\\_]+' //[^a-zA-Z0-9]+ not letters/numbers: [[email protected]#$%^&*\(\)+=`\'"\/\\_]+
 }
}
  
,'pagination':{
 className: 'Pagination'
 ,options: {
 
 //paging
 range: 7
 ,jumpToStart: false
 
 //arrows
 ,prevArrow: '‹'
 ,nextArrow: '›'
 ,firstArrow: '«'
 ,lastArrow: '»'
 }
}	
 
,'reset':{
 className: 'Reset'
 ,options: {}
}
 
,'select':{
 className: 'Select'
 ,options: {}
}
 
,'textbox':{
 className: 'Textbox' 
 ,options: {
 eventName: 'keyup'
 ,ignore: '[[email protected]#$%^&*()+=`\'"\/\\_]+' //[^a-zA-Z0-9]+ not letters/numbers: [[email protected]#$%^&*\(\)+=`\'"\/\\_]+							
 }
}
 
,'views':{
 className: 'Views'
 ,options: {}
}
 
,'checkbox-group-filter':{
 className: 'CheckboxGroupFilter'
 ,options: {}
}

,'checkbox-text-filter':{
 className: 'CheckboxTextFilter'
 ,options: {
 ignore: '' //regex for the characters to ignore, for example: [^a-zA-Z0-9]+
}
}
 
,'button-filter':{
 className: 'ButtonFilter'
 ,options: {}
}

,'button-filter-group':{
 className: 'ButtonFilterGroup'
 ,options: {}
}

,'button-text-filter':{
 className: 'ButtonTextFilter'
 ,options: {
ignore: '[[email protected]#$%^&*()+=`\'"\/\\_]+' //[^a-zA-Z0-9]+ not letters/numbers: [[email protected]#$%^&*\(\)+=`\'"\/\\_]+
}
}
 
,'button-text-filter-group':{
 className: 'ButtonTextFilterGroup'
 ,options: {
 ignore: '[[email protected]#$%^&*()+=`\'"\/\\_]+' //[^a-zA-Z0-9]+ not letters/numbers: [[email protected]#$%^&*\(\)+=`\'"\/\\_]+
}
}
 
,'radio-buttons-filters':{
 className: 'RadioButtonsFilter'
 ,options: {}
}

  ,'range-filter':{
 className: 'RangeSliderToggleFilter'
 ,options: {}
}
 
,'back-button':{
 className: 'BackButton'
 ,options: {}
}
 
,'preloader':{
 className: 'Preloader'
 ,options: {}
}
}
});
});
</script>
3. Panel Controls Attributes.
data-control-type="type": panel control type like 'drop-down', 'textbox', 'pagination'
data-control-name="name": panel control name. It should be the same in the top and bottom panels.
data-control-action="action": panel control action like 'sort', 'filter', 'paging'.
data-control-storage="false": exclude control from storage (when cookies/localstorage is enabled)
data-control-deep-link="false": exclude control from deep link (when deep linking is enabled)
data-control-animation="false": exclude control from animation effects
data-control-animate-to-top="true": perform "animate to top" effect for the given control; as a rule, used in bottom panel
Change logs:
2016-11-18
Fixed issue within jplist.core-ajax.min.js
Customize pagination for << < > >> for the visually impaired
2016-10-13
Fixed data-selected="false" on sort buttons not working
2016-10-13
Fixed Text-filter issue with Google Chrome.
Range filter multiple numbers support is added
added clear button to the store locator autocomplete
Fixed Failure after empty the list and appending a new item
added clear button to textbox filter
added support for typing delay to textbox filter
pagination dropdown fix for view all
2016-07-19
2016-05-03
2016-04-26
added possibility to ad cotrnol dynamically
fixed Button Text Filter on image attribute
2016-04-17
added possibility to get a list of source files using node
2016-04-15
2015-10-15
Fixed Deeplink not working for pagination control.
2015-07-21
added multiple sort to the sort bundle
2015-07-16
fixed issue with reset button in jquery ui bundle
2015-07-14
update add / del API: now it's possible to add / del range of items
2015-07-13
added mode (startsWith, endsWith, contains and advanced) to the text filter controls
2015-07-02
added default value in jQuery UI Date Picker Range Filter Control
2015-06-07
fixed deep links in pagination bundle
2015-03-22
deep links support moved to the separate service; added hashStart option
2015-03-21
fixed issue with default values in jquery ui range slider control
2015-03-08
fixed Call to a member function fetchColumn() on a non-object
2015-02-02
fixed deep linking issue in filter dropdown bundle
2015-01-16
fixed issue in deep linking in radio buttons control
2015-01-11
added and, or, not operators to the text search controls and bundles
2014-12-09
fixed issue with 'exclude from storage' attribute
2014-11-18
fixed issue with textbox control default value
fixed issue with deep links in date-picker-range-filter
2014-11-09
fixed issue with checkbox filter in php data sources
2014-11-03
fixed jplist events structure; fixed issues with exclude from storage data attribute.
2014-10-29
added jquery ui date picker filter control
---
This awesome jQuery plugin is developed by 1rosehip. For more Advanced Usages, please check the demo page or visit the official website.