| | |
| --- | --- |
| File Size: | 2.94 KB |
| Views Total: | 635 |
| Last Update: | |
| Publish Date: | |
| Official Website: | Go to website |
| License: | MIT |
| | |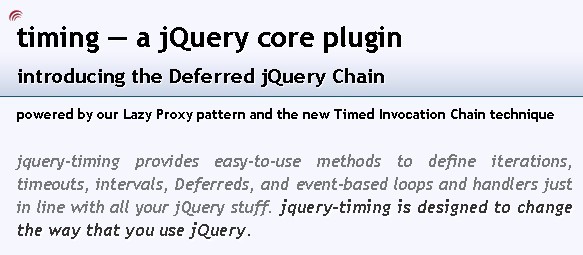 jquery-timing is a A powerful & Useful jQuery Plugin that can help you out in lots of situations (e.g. timeouts, intervals, event callbacks, …). The plugin provides easy-to-use methods to define iterations, timeouts, intervals, Deferreds, and event-based loops and handlers just in line with all your jQuery stuff. jquery-timing is designed to change the way that you use jQuery.
Features:
Patterns with animations
Patterns with arrays of values
Patterns with callbacks
Patterns with chain interruption
Patterns with closed loops
Patterns with inline attached events
Patterns with instant loops
Patterns with intervals
Patterns with open loops
Patterns with parallel loops
Patterns with promises
Patterns with sequential loops
Patterns with timeouts
---
This awesome jQuery plugin is developed by unknown. For more Advanced Usages, please check the demo page or visit the official website.