| | |
| --- | --- |
| File Size: | 907 KB |
| Views Total: | 12151 |
| Last Update: | |
| Publish Date: | |
| Official Website: | Go to website |
| License: | MIT |
| | |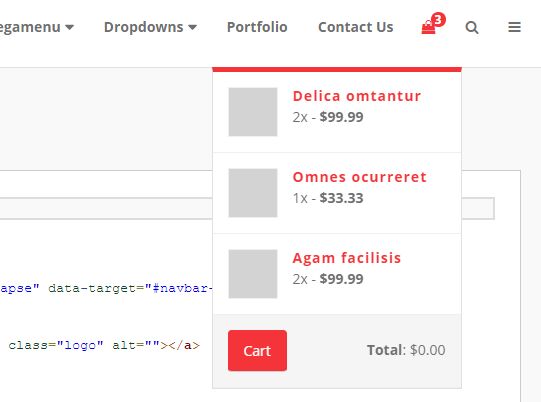 Bootsnav is a Bootstrap plugin which uses jQuery, Animate.css and Bootstrap's style to create animated, responsive, various types of header navigation for your Bootstrap project.
23 Header layout included:
Navbar Menu Right
Navbar Menu Center
Navbar Menu Left
Navbar Dropdown
Navbar Megamenu
Navbar Atributes
Navbar Shopping Chart
Navbar Search
Navbar Side Menu
Layout Navigation Menu
Navbar Center
Navbar Center Alt2
Navbar Mobile Slide
Navbar Full
Navbar Sidebar
Navbar Brand Top
Navbar Sticky
Navbar Scrollspy
Navbar Scrollspy Sidebar
Navbar Fixed alt1
Navbar Fixed alt2
Navbar Fixed alt3
Navbar Fixed alt4
How to use it:
1. Load the following CSS files into your Bootstrap project:
<link href="css/animate.css" rel="stylesheet">
<link href="css/bootsnav.css" rel="stylesheet">
<link href="css/overwrite.css" rel="stylesheet">
<link href="skins/color.css" rel="stylesheet">

2. Load the Bootsnav' script at the end of the document.
<script src="js/bootsnav.js"></script>

3. Add the required CSS class 'bootsnav' and a header layout of your choice to the regular Bootstrap nav component.
<nav class="navbar navbar-default navbar-sticky bootsnav">
  ...
</nav>

---
This awesome jQuery plugin is developed by adamnurdin01. For more Advanced Usages, please check the demo page or visit the official website.