If you are running a large cross-platform site and have a lot of content, then you might need a responsive multi-level dropdown menu to organize and display categories and featured content/products on both desktop and mobile.
In this article you will browse through the top 10 responsive, mobile-friendly, and multi-level dropdown menus built with jQuery and/or pure JavaScript/CSS. I hope you like it.
Originally Published May 10, 2019, updated Feb 07 2023
Table of contents:
jQuery Dropdown Menu Plugins:
jQuery plugin to fire events when user's cursor aims at particular dropdown menu items. For making responsive mega dropdowns like Amazon's.
---
A responsive, Touch-Friendly and cross-browser jQuery drop down menu plugin that has support for unlimited sub-menus and works nice in both desktop and mobile layouts.
---
A jQuery Navigation Menu plugin for creating responsive and cross-platform multi-level dropdown menus for your site navigation. It comes with a lot of options for customizing your menus and supports all devices such as desktop, tablet, mobile, etc. Please resize the demo page to see how it works on mobile devices.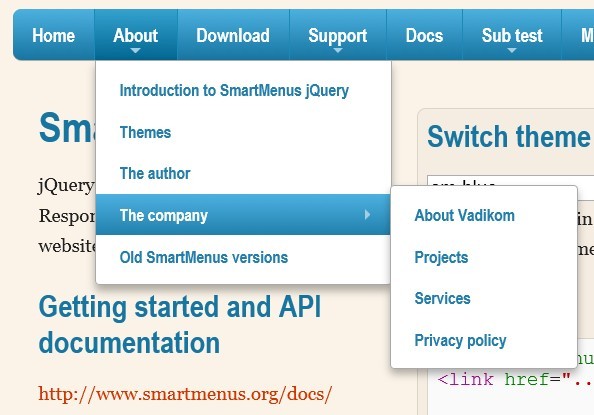 ---
A pretty and mobile-friendly jQuery plugin for creating responsive and nested multi-level drop down menus with smooth drop down animations and some useful options for your navigation.
---
An elegant, responsive, mobile-friendly dropdown menu plugin for jQuery that supports infinite levels of sub menus and auto switches to a small screen friendly toggle menu when the window width reaches a specified breakpoint.
---
Vanilla JS Dropdown Menu Libraries:
A responsive sidebar menu with multi-level sub-menus written in plain JavaScript and CSS.
---
A set of 17+ accessible, fully responsive, and mobile-friendly header navbar templates for modern web app design.
---
A Vanilla JavaScript library that makes it easier to create responsive, mobile-friendly, multi-level dropdown menus for the navbar of your cross-platform web app.
---
Pure CSS Dropdown Menu Plugins:
A pure CSS responsive menu which automatically collapses the regular drop-down navbar into a mobile-friendly sliding menu with or without the toggle button.
---
A pure CSS mobile-friendly navigation that automatically transform your horizontal navigation into a toggleable vertical accordion menu on smaller screen devices, with support for unlimited sub menu items.
---
Conclusion:
Want more jQuery plugins or JavaScript libraries to create awesome dropdown menus on the web & mobile? Check out the jQuery Dropdown Menu and JS/CSS Dropdown Menu sections.
See also: