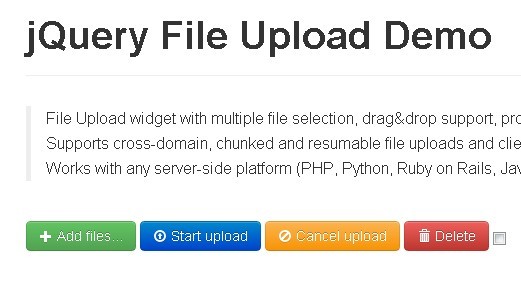 | | |
| --- | --- |
| File Size: | 121 KB |
| Views Total: | |
| Last Update: | |
| Publish Date: | |
| Official Website: | Go to website |
| License: | MIT |
| | |
A Beautiful and powerful jQuery File Upload Plugin with multiple file selection, drag&drop support, progress bars and preview images.
Supports cross-domain, chunked and resumable file uploads and client-side image resizing. This plugin is built with Twitter's Bootstrap toolkit and Icons from Glyphicon.
This is the 1st file upload plugin on jQueryScript.
Alternatives:
Changelog:
v9.28.0 (2018-11-13)
v9.27.0 (2018-11-07)
v9.26.0 (2018-11-02)
v9.25.1 (2018-10-26)
v9.23.0 (2018-10-15)
v9.22.0 (2018-06-19)
v9.21.0 (2018-02-19)
v9.20.0 (2018-01-23)
Automatically infer the url (and poster for YT) from the YouTube/Vimeo video ID.
v9.19.3 (2018-01-15)
v9.18.0 (2017-03-29)
v9.17.0 (2017-02-18)
v9.16.0 (2017-02-10)
v9.15.0 (2017-02-06)
v9.14.2 (2016-12-20)
v9.14.1 (2016-11-21)
v9.12.3 (2016-04-13)
v9.11.2 (2015-08-29)
Updated AngularJS, jQuery and jQueryUI.
v9.11.0 (2015-08-11)
Updated AngularJS, jQuery and jQueryUI.
v9.10.4 (2015-07-08)
Fixed race condition when cancelling the second file selection.
v9.10.3 (2015-07-07)
v9.10.1 (2015-06-12)
v9.9.4 (2015-05-20)
Fixed broken data attributes handling for IE<9.
v9.9.3 (2015-01-05)
Fixed broken data attributes handling for IE<9.
v9.9.2 (2015-01-05)
Apache+PHP security patch release.
v9.9.1 (2015-01-05)
v9.9.0 (2015-01-01)
v9.8.1 (2014-09-16)
jQuery cache memory leaks patch release.
v9.7.2 (2014-09-16)
HTTPS demo + Load Image path fix release.
v9.7.1 (2014-09-03)
IE10+ drag&drop patch release.
v9.7.0 (2014-07-22)
Minor error message release version.
v9.6.0 (2014-07-16)
Provide a reference to the cloned file input.
v9.5.6 (2014-02-13)
Refactored last merge to fix HTML5 data-attributes handling.
v9.5.5 (2014-02-12)
v9.5.4 (2014-01-28)
Updated jQuery UI Widget Factory and fixed AngularJS widget options handling.
v9.5.3 (2014-01-23)
v9.5.2 (2013-12-13)
Iframe Transport bugfix release.
v9.5.0 (2013-12-02)
Improved memory handling with image processing
v9.4.1 (2013-11-22)
Use scope.evalAsync to make sure the digest cycle is triggered.
v9.3.0 (2013-11-15)
Added options limitMultiFileUploadSize and limitMultiFileUploadSizeOverhead
v9.2.0 (2013-11-12)
Render the upload template before processing the files.
Updated dependencies.
v9.1.0 (2013-11-09)
Added imageQuality, imageType and imageForceResize options.
v9.0.0 (2013-10-31)
Render the upload template before processing the files. This allows to abort the processing queue via the user interface.
Provide a server result in fail callbacks.
Catch imagick image detection exceptions.
v8.9.0 (2013-10-12)
Make sure templates with fade class are hidden before the transition is applied.
v8.8.7 (2013-10-09)
Apply file upload style fixes to IE < 8.
Don't use CSS imports.
v8.8.3 (2013-08-30)
updated to the latest version
v8.7.1 (2013-08-05)
Respect the prependFiles option in the done and fail callbacks. Fixed prependFiles is not always used
v8.7.0 (2013-08-02)
just added an updated jQuery UI example implementation.
v8.6.0 (2013-07-10)
Use camelCase for JSON properties.
v8.5.1 (2013-07-09)
Clarify the importance of the "X-Content-Type-Options: nosniff" header.
Added play-pause control for the Gallery.
Disable file selection button if browser doesn't support file inputs.
---
This awesome jQuery plugin is developed by blueimp. For more Advanced Usages, please check the demo page or visit the official website.