| | |
| --- | --- |
| File Size: | 12.4 KB |
| Views Total: | 46430 |
| Last Update: | |
| Publish Date: | |
| Official Website: | Go to website |
| License: | MIT |
| | |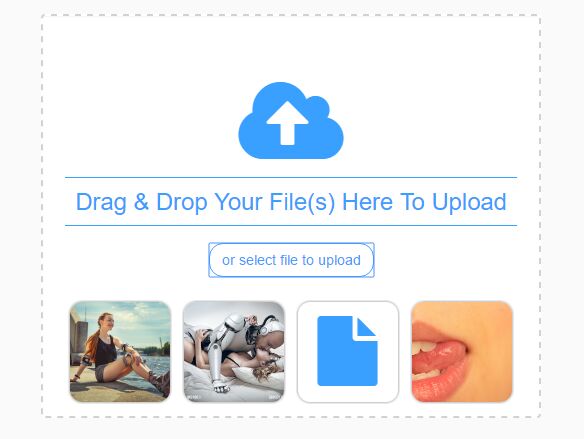 Imageuploadify is a jQuery & Bootstrap plugin that converts the normal file input into a drag'n'drop multi-file upload control with files (images) preview support. You can either browse for multiple files or drag and drop files into the control.
How to use it:
1. Include the needed jQuery library, Twitter's Bootstrap and Font Awesome icon font on the html page.
<link rel="stylesheet" href="bootstrap.min.css">
<link rel="stylesheet" href="font-awesome.min.css">
<script src="jquery.min.js"></script>
<script src="bootstrap.min.js"></script>

2. Put the jQuery imageuploadify plugin's files in the page.
<script" src="imageuploadify.js"></script>
<link href="dist/imageuploadify.min.css" rel="stylesheet">

3. Call the function imageuploadify() on the regular file input and the plugin will do the rest.
<input type="file" multiple>

$('input[type="file"]').imageuploadify();

4. Set the file types allowed using the accept attribute like this:
<input type="file" accept=".xlsx,.xls,image/*,.doc,audio/*,.docx,video/*,.ppt,.pptx,.txt,.pdf" multiple>

Change log:
2016-11-15
Add minify version, separate CSS from JS, clean code, fix issues
2016-11-10
Submitting form redirect to original redirected location
2016-11-08
Full responsive, fix drag'n drop issue with Chrome
2016-11-04
Add onsubmit form to add drag'n drop files, fixes some issues
2016-10-31
Fix issues (missing event obj and button should not submit form)
---
This awesome jQuery plugin is developed by wpic. For more Advanced Usages, please check the demo page or visit the official website.